Customer Reviews
08/05/2019
Juan G.
United States
White Speckle Pack NMD
I purchased these laces to complete the look of the picture given by this website. I thought these laces made the NMD stand out and look 100 times better so I decided to try them out myself. I have recieved multiple compliments on my shoes and I am sure I wouldn't have gotten half of those without the laces!
07/18/2019
Aaron M.
United States
Adidas nmd, size 9.5
Makes the shoe look so much better!
07/18/2019
Jayden S.
United States
NMDs with the stripes, 36"
I love the new laces I got, they match perfectly with my NMDs. They really just bring out the shoe much more, the regular laces look okay but the laces I bought just give it a much better look. I would love to get another pair to see if I could make my shoes look better than they do now.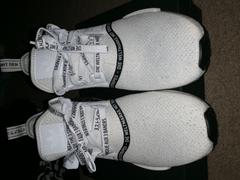 07/12/2019
Jonathan H.
United States
Adidas NMD R1 Japan White Colorblock sz 11
Laces made the shoes. They came with a boring white lace but these laced up laces were perfect to replace those.
07/12/2019
Seth O.
United States